Cisco Catalyst Switches Questions
Network System Engineer at Mutex Systems limited
Hi community,
I am using Cisco Catalyst 3560G which was not in use for a while. 
When I start the switch, firstly it hangs during boot then I reset it multiple times and then the page (see below) appears on the console but I'm not able to run any command.
Secondly, all ports are not responding: when I check them no ports or led up when I connect it. 
What should I do? Does it is related to hardware failure or a firmware issue? Possibly, something else. Please advise!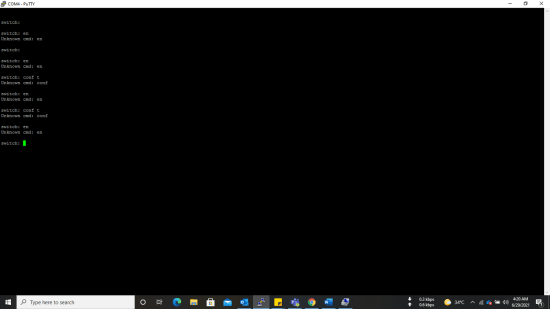 (less)
Greg Plante
In order to recover from rommon you will need to re-install an OS on the switch…
 more »
Network System Engineer at Mutex Systems limited
Hi community,

Is it necessary to stack power cables while stacking switches in Cisco Catalyst 9300 into the HA mode (I am stacking using StackWise-480)?
User at Ministry of Finance
Hi, 
Until now, I have been using a Cisco Catalyst 2960 switch. But now I'm considering changing it to a D-Link one. 
Would you recommend me doing this change? If so, why?
Thank you!
I'm researching switches. Which do you recommend - Fortinet FortiSwitch - Secure Access vs Cisco Catalyst?
Content Specialist
IT Central Station
Please share with the community what you think needs improvement with Cisco Catalyst Switches.
What are its weaknesses? What would you like to see changed in a future version?
Content and Social Media Manager
IT Central Station
If you were talking to someone whose organization is considering Cisco Catalyst Switches, what would you say?
How would you rate it and why? Any other tips or advice?
Content and Social Media Manager
IT Central Station
Hi Everyone,
What do you like most about Cisco Catalyst Switches?
Thanks for sharing your thoughts with the community!
Content and Social Media Manager
IT Central Station
Hi,
We all know it's really hard to get good pricing and cost information.
Please share what you can so you can help your peers.
Content Specialist
IT Central Station
How do you or your organization use this solution?
Please share with us so that your peers can learn from your experiences.
Thank you!
Sr. Toll Systems Engineer at a consultancy with 10,001+ employees
I am trying to determine if we need to specify and justify the cost for FM200 fire suppression.
Client has about 24 sites each with a computer equipment room containing anywhere from 3 to 5 racks with 3-4 Dell and HP servers, CIsco network switches, patch panels, UPS and batteries. Many of these locations will go to unstaffed in the future.
(less)
Buyer's Guide
Download our free Cisco Catalyst Switches Report and get advice and tips from experienced pros sharing their opinions.