Oracle OBIEE Questions
User at Technische Hochschule Georg Simon Ohm
Hello, 

Can someone explain what features/products OBIEE offers?
Are these OBIEE's products/features?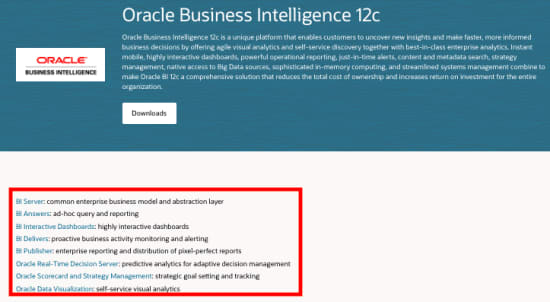 And if yes, what are Hyperion Interactive Reporting, Hyperion SQR Production Reporting, Hyperion Financial Reporting and Hyperion Web Analysis?


They appear when I click on BI Server.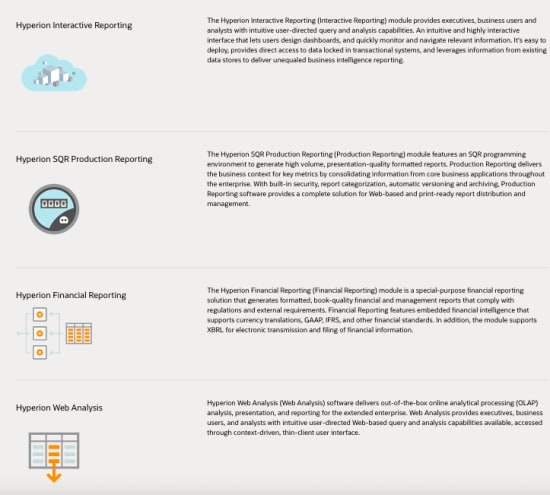 Thanks!
User at Technische Hochschule Georg Simon Ohm
Hi,
I'm looking at Oracle Analytics Server and Oracle OBIEE and am trying to understand the difference between the two of them.
I've heard that Oracle Analytics Server and Oracle Analytics Cloud have almost the same features. The difference is that Oracle Analytics Server is on-premise and Oracle Analytics Cloud is a cloud version. But, I also know that Oracle OBIEE is on-premise too.

Peers, can you please assist and clarify it for me?
User at Technische Hochschule Georg Simon Ohm
Hi, I'm pretty new to Oracle and don't get what the difference between Oracle Analytics Cloud and Oracle OBIEE is. 
Can anyone clarify it to me? Thanks.
Solution Architect at a tech vendor with 10,001+ employees
Hello All,
I want to develop a BI product and wondering about the 2 approaches below:
Approach 1:
Build EDW or data mart layer in database and do not provide RPD as part of product.
This is so that customer can choose a reporting tool of their choice on top of data model provided at ETL layer.
Different customers may have varying reporting requirements and building a RPD to serve all may be a stupid idea.
Approach 2:
Build EDW or data mart layer in database along with reporting layer (RPD).
This is with thinking that RPD built can be reused in multiple tools like OAS, OAC and OBIEE.
Also RPD can be built with basic common features which are applicable to all as initial template.
Customers can enhance (applying custom changes) on top of this initial template to build a relevant full fledged solution to them.
I understand any approach can be determined based on specific business needs, however in general may I invite different perspective from various SMEs what is
 - possible pros and cons of these 2 approaches, recommendations and suggestions.
- What is benefit of RPD based reporting solution over non-RPD based reporting solution like Tableau reporting tool?
- Is this RPD symantics layer of BI solution?
Thanks,
Content Specialist
IT Central Station
Hi Everyone,
What do you like most about Oracle OBIEE?
Thanks for sharing your thoughts with the community!
Content and Social Media Manager
IT Central Station
Hi,
We all know it's really hard to get good pricing and cost information.
Please share what you can so you can help your peers.
Content Specialist
IT Central Station
Please share with the community what you think needs improvement with Oracle OBIEE.
What are its weaknesses? What would you like to see changed in a future version?
Content Specialist
IT Central Station
How do you or your organization use this solution?
Please share with us so that your peers can learn from your experiences.
Thank you!
Content Specialist
IT Central Station
If you were talking to someone whose organization is considering Oracle OBIEE, what would you say?
How would you rate it and why? Any other tips or advice?
Business Intelligence (BI) Tools Questions
Werkstudentin Dev / Qa at Otto-friedrich-universität Bamberg
Which functionalities offered by enterprise ETL tools are not supported by open-source ETL tools?
Also, is there any major difference if one moves from Talend Open Studio to Talend Enterprise?
Thank you.
Hello, I'm working at a company with more than 5000 employees.

We have multiple sets of dashboards and we're looking to migrate them from TIBCO Spotfire to Microsoft Power BI. I'm trying to make a case study before kick-starting the work. 
What challenges should I expect while migrating the dashboards from TIBCO Spotfire to Microsoft Power BI? Are you aware of any tool (or a set of tools) that could help? 
Otherwise, if this migration is done manually, what functionality will potentially be missing in Microsoft Power BI after this migration?
Thanks and I appreciate your help!
Ariful Mondal
Thank you @Evgeny Belenky ​ for tagging me here. Unfortunately, there is no…
 more »
Currently, I am using SAP BO Enterprise and running on Oracle.
I'm looking for a much less expensive solution. It's not enough to use MS SQL instead of Oracle. 
I'm still profiling the SAP BOE implementation, but would like to head towards a DWH implementation that users can report off. Various users have mentioned in passing: PowerBI, Qlik, Tableau. 
At this point, the only solid knowledge I have is that management want to get rid of SAP and Oracle.
Any recommendations?
Chief Technology Officer at ECMS
Hello, I'm looking for a Business Intelligence solution that's not so heavy - mostly reporting with drill up/down/across functions, dashboard, chat... 
Can anyone suggest a good option?
What types of insights do businesses gain from BAM as opposed to BI?
Senior HR Analyst at a financial services firm with 501-1,000 employees
Our HR workforce analytics and process management team have been using Tableau desktop for over a year and found a great deal of benefit from its various features. Our teams deal with a lot of MS Excel and Access files but also have to push data out of key HRIS systems like Workday into Tableau since there is no existing driver connection currently. Now that we are pursuing Tableau server so managers can utilize the dynamic reporting our IT department is concerned since they've invested heavily into Business Objects (with limited use in the company) and we now have to justify going with Tableau Server vs. using Business Objects. Our HR team requires very quick turn around on reports and metrics with strong reporting visualization. Our workforce analytics handles a lot of predictive analytics/forecasting. Ideally we hoped using Tableau would actually free up IT resources to other larger priorities instead of managing change requests on reports consistently. In our opinion based on all of this, including low cost for implementation (under $60k incl. hardware) and low annual maintenance (under $10k) for 30 licenses that Tableau seems to be the clear route to go but I'd like to get some input from others.
So I'd like to ask users out there who are familiar with both systems to provide feedback on what they think a better option might be and any pros/cons when matching up the two systems.  Thanks!